The interface is certainly user-friendly and intuitive, and that is very important to me.
– Jeff Tepper, University of Puget Sound
I have installed the GWB and am enjoying using it. Thank you for developing such a great software!
– Peng Luo, Saskatchewan Research Council
Reaction paths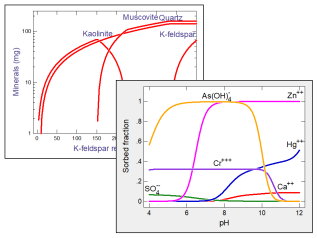 Program React simulates multicomponent reaction in closed systems, or those open to mass and heat fluxes. Almost endlessly configurable, you can use React to:
Model water-rock interaction
Simulate fluid mixing
Polythermal reactions
Fixed and sliding activity or fugacity
Speciation diagrams
Kinetic rate laws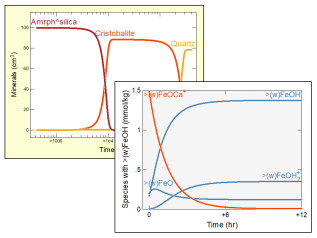 React can integrate into any reaction model the kinetics of:
Mineral, end member dissolution and precipitation
Complex association and dissociation
Sorption and desorption
Redox transformations
Enzymes and catalysts
Gas transfer
Isotope fractionation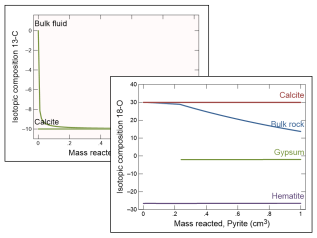 React can model the fractionation of stable isotopes in reacting systems:
Isotopes of any element with a dominant mass
Multiple isotopes of an element (e.g., 17O, 18O)
Any number of isotopes active in a run
Fractionation among species, minerals, gases
Data included for 2H, 13C, 18O, and 34S
Equilibrium and segregated minerals
Kinetic and microbiological reactions
Microbial reaction and growth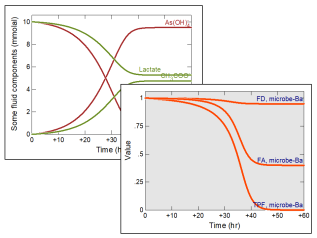 React is built to model microbial reaction and growth. It can account for:
Kinetics of microbially catalyzed reactions
Growth and decay of microbial populations
Link assimilatory growth to catabolic rate
Thermodynamic constraints on reaction
Pure cultures and mixed communities

Order now!
Visit our online ordering page and you will be up and running in minutes! Can you use more power? Contact us to upgrade your Standard license to GWB 2023 Professional for just the difference in price.